Today is talk like a Pirate day. So, say it with me… Arrrrgh!.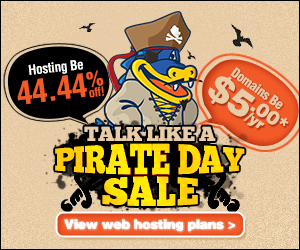 Well I got two announcements to make today.
One is that I'll be adding a new partner web hosting company to my offerings. So now you can get the Real Free Website service as it always has been but you now have a choice of two web-hosts.
The new web-host partner is world famous HostGator. Hostgator has been a long time host of mine for several of my websites and I really like them because they offer unlimited websites and storage and bandwidth, even in their shared plans.
Please note, this offer has expired. For current deals and specials head over to the Free Website Specials section to see what is available now.
They are also very competitive when it comes to pricing and their support is also world-class.
The second announcement is that today, Talk like a Pirate day, Hostgator is offering a very special deal.
The special offer is %44.44 off their hosting plans and $5.00 per domain! So if you need web hosting, you can get it for almost half off, and each domain you buy is only five bucks. Click here to take advantage of this offer or to learn more.
To sweeten up the deal, I'll extend my offer to transfer your website from your current host for free if you need that instead of a brand new website.
And yes, even with this deep discount I can offer you the same great Free Website deal service if you buy your webhosting through Hostgator. This sale is limited time and expires TONIGHT at midnight, central time. After that, the prices will go back up to normal and domains will be priced back to normal price which is about $10.00